We have recently installed a Production Monitoring system called Intouch.  The system has been designed primarily for the Injection moulding industry, and provides production monitoring, scheduling and reporting facilities.
Connected to each machine, intouch is able to monitor production in real time and deliver live, up to date information.
The current status of each machine can be seen at a glance. Key performance figures such as scrap rate, down time, efficiency, utilisation and set-up time are displayed on fully configurable mimic diagrams, details pages and summary pages through familiar Windows based software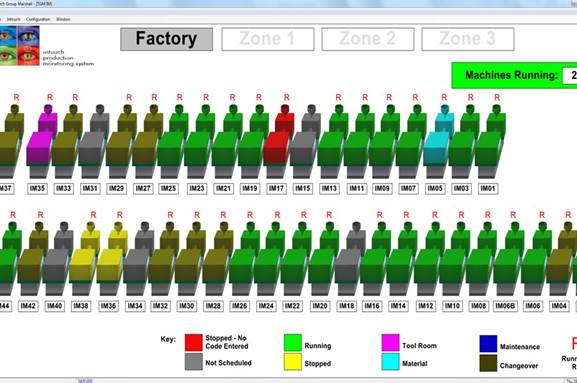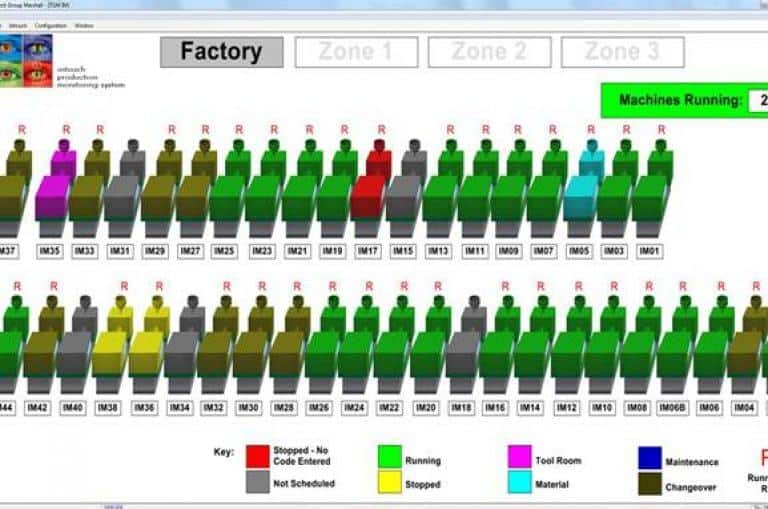 The Gantt chart view provides a graphical visualisation of machine loading and capacity utilisation. Rescheduling is easily achieved through a simple drag and drop operation. Jobs on the Gantt chart can be highlighted for various reasons. For example, to identify tool changes, late jobs or resource clashes
All data collected by the monitoring system is recorded in the archive database. As well as being available to the intouch reporting module, the data can be interrogated through industry standard software such as Microsoft Excel or Access.  Analyses of the data will identify problem machines and tools. Accurate data quantifies problems enabling informed decisions to be made to streamline our production operation.
Operators can also interact with the system through easy to use keypads located at each machine on the shop floor, to book in scrap by fault and enter stoppage reasons. This data quantifies scrap problems highlighting concern areas. Trends can be detected early on so that corrective action can be taken.
We are looking forward to having things running even more smoothly at BSA with the combined introduction of 'Intouch' alongside a whole new Business Management Software which is soon to be introduced – blog update to come.